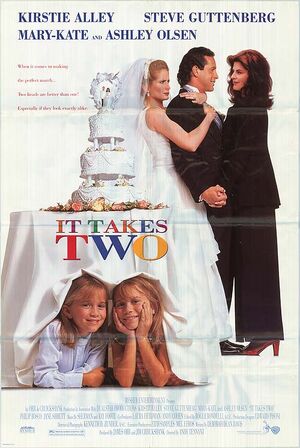 "It Takes Two" is a film released on November 17, 1995. It is the first of only two theatrical Olsen-Twins' films, the second being New York Minute. It stars Mary-Kate and Ashley Olsen as two unrelated look-alikes, Amanda Lemmon and Alyssa Callaway, respectively, Kirstie Alley as Diane Barrows and Steve Guttenberg as Roger Callaway.
The scene where Alyssa (having pretended to be Amanda) steps on Clarice's dress and shows her underwear in front of people is what inspired a similar scene in "Rugrats in Paris".
Ad blocker interference detected!
Wikia is a free-to-use site that makes money from advertising. We have a modified experience for viewers using ad blockers

Wikia is not accessible if you've made further modifications. Remove the custom ad blocker rule(s) and the page will load as expected.